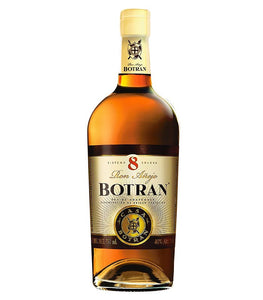 Botran Añejo rum 8 years It is made through a slow and laborious process created by the Botran family, who came from Burgos to Guatelama. He designed a unique style over the years creating complex rums with a long finish and subtle notes. This is how this drink is, a real pleasure for all the senses.
One of its main qualities is the cultivation of cane varieties highly valued for its concentration of sugars. Del The first pressing of this special product is obtained the concentrated juice, called virgin honey. From it the aged Botran rums are distilled, which are made with the residue of the elaboration del sugar, that is, molasses.
Botran rums that have a universal passport and world citizenship rest in barrels that have previously been aged in American whiskey, sherry and port. Some submit to power del fire to cause the wood to release aromas such as vanilla, cocoa, nuts and fruit.
The Ron Botran Añejo 8 Years is aged under the solera system in the mountains of Guatemala. For this purpose, American white oak barrels that previously contained whiskey are used, in toasted barrels and in others that previously aged Sherry wines.