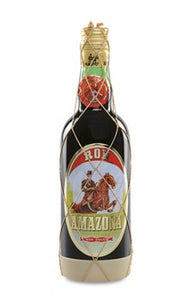 Color: The Amazona Ron has an intense ruby ​​red color.
Smell: Notes of dark chocolate and caramel.
Flavor: It presents a sweet and smoky entry, with a very strong flavor.
PRODUCER: Limsa. This company was born in 1860 in Sa Cabaneta (municipality of Marratxí, Mallorca) at the hands of the Cañellas family. They own a long tradition of more than 150 years in the production of aniseed, liqueurs and rums. Over the decades, other families joined and formed the "Limsa" brand. Much of its products originated in trade with the American colonies, where aniseed and brandies were exported. Later they arrived in Mallorca where they were consumed and had a fairly high demand. In this way, liqueurs such as Cremadillo Valls, Caña Rossa 65 and AMAZONA rum were born.
Country Spain
PRODUCTION DETAILS: This traditional liquor was born in the seventeenth century, the result of commercial exchanges between Cuba, the Dominican Republic, Puerto Rico and Mallorca. Its elaboration is based on a long process of maceration of exotic fruits and typical spices of the island, sugar cane alcohol and caramelized sugar. This combination results in a sweet rum with a unique and intense flavor that can be enjoyed alone or with coffee (carajillo).
ALCOHOL DEGREE: 53%