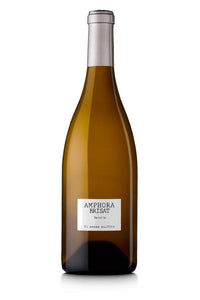 A 100% Xarel·lo natural wine, organic, breeze-dried and made in native clay amphorae
On this occasion we let the xarel·lo ferment spontaneously in native clay amphorae along with its skins, to become the winery's first orange wine. A single-varietal wine without added sulfites that exalts our taste for experimentation and the evolution of different winemaking techniques.
Amphora Brisat was born from the observation of leaving the skins submerged in the pie de vat when making Amphora Roja in clay containers. Its extraordinary aroma pushed Marta and Maria Elena, our winemakers, to preserve the nuances with the technique del breezy Adding the fact that the amphorae are made with the estate's own clay, it is the most vivid example of our desire to make wines that express what nature gives us.
TASTING NOTE
Vista
Straw yellow, may present grounds.
Nose
The nose is fruity and elegant, with a base of baked apple ending with a subtle aroma of banana.
Boca
In the mouth it is tasty, with a lot of texture thanks to the skins that have given it tenacity.
"Structured but delicated. Honey, lemon peel and peach. Good structure also on the palate."