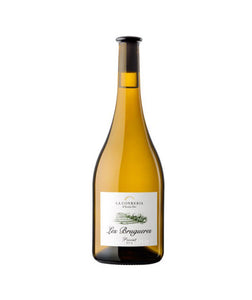 Type of wine -White with aging
Alcoholic Graduation -13,5%
Bottle Capacity -0,75
Variety of Grapes -Garnacha Blanca
Aging Time - 5 months in stainless steel tanks on its lees
-Sustainable Viticulture
Tasting -Color: Pale yellow with green reflections and medium tear. Aromas: Intense, with notes of tropical fruit and stone, herbaceous. Mouth: Dry, wide with a journey and good acidity.
The La Conreria d'Scala Dei winery in Priorat contains in itself a history and a legacy that lead us to meet an ancient tradition, being the monks of the Charterhouse of Scala Dei, eight centuries ago, who demarcated the land of what is today the denomination. Feeling proud of them, this winery pays homage to this land, carefully caring for vineyards of various types and varieties, wisely distributed throughout different enclaves of the region, to create wines with their own personality. A young winery, located inside del Natural Park del Montsant, in the heart del Priory and inaugurated in 1997, modern in style but pointing to tradition, which year after year improves and perfects its know-how. La Conreria d'Scala Dei was born from the will and enthusiasm of a group of people historically linked to the Priorat, with the desire to make known to the world the magnificent wines that are made in this land.