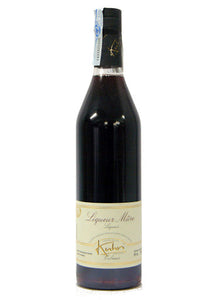 Liquor with an intense blackberry flavor resulting from the total absence of syrups and the selection of wild blackberry fruits from the region.
The distillery kuhri It is located in Colmar, in the heart of the Alsacia (France), a privileged area with an exceptional terroir and a very favorable climate for the cultivation of fruit trees.
The liqueurs are obtained through a natural method, by the maceration of fresh fruits. Subsequently, the "infusion" from this process is filtered to obtain a clean and brilliant product.
Pairing: Consume cold with or without ice. Perfect at the end of a meal, to accompany desserts, as a quiet drink, in cocktails and is even used in the kitchen to make jellies and to flavor desserts.
Alcoholic grade: 16 º