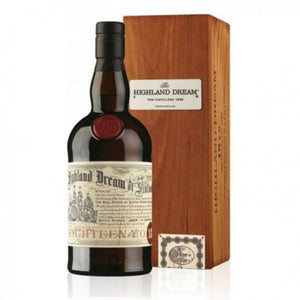 In 1999, the management of the Glenfarclas Distillery acquired, at a Christie's auction, a very rare bottle dated around 1896. The XNUMXth century is considered the golden age of malt distillers, so the purchase was very important. It was during one of the visits to the GLENFARCLAS distillery, in the room that serves as an archive for samples and old bottles, that the idea of ​​creating a replica of said bottle arose. Its reproduction did not seem an easy task, and it really has taken three years to achieve it. The realization of a good blended whiskey is the confirmation of a long experience and a particular style. Mr. Gordon J. Doctor, one of the most distinguished blenders, has selected the best malts, from the Scottish highlands, obtained in prestigious distilleries and has aged them for many years in mainly sherry casks.
The result, this unique and special brandy - "usige beata" for the Scots - with a flavor inspired by blended del XNUMXth century, a time when whiskeys combined robustness and quality, with an unmistakable Jerez accent.
Nose: pleasant malt aromas with hints of toffee.
Palate: smooth and elegant, sherry base combined with flavors of honey and fresh fruits
Final: long with hints of spicy and toasted notes.