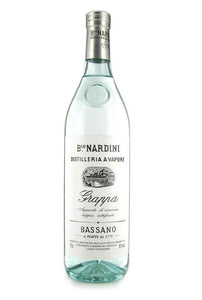 TASTING NOTES:
Color: Transparent crystal
Smell: Intense, balanced and clean
Flavor: Balanced, intense and dry. A captivating flavor for moments of intense pleasure. Ideal for preparing cocktails.
PRODUCER: Distilleria Bortolo Nardini
COUNTRY: Italy
PRODUCTION DETAILS: Marc of grapes harvested in the foothills of the Italian regions of Veneto and Friuli. Traditional vacuum sealed steam nozzle distillation with double distillation and cold filtration. Today, Nardini, with its two distilleries and state-of-the-art manufacturing system, makes grappa and grappa-based liqueurs that evoke the rich traditions of this region.
ALCOHOL DEGREE: 50%