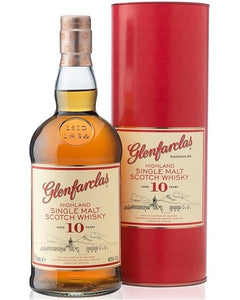 Glenfarclas is one of the few remaining independent, family owned distilleries in Scotland.
Using the best ingredients combined with traditional distillation methods, the unforgettable flavor is created. del Single Malts.
Bright straw gold color. Tempting malted and sweet sherry notes wrapped in a delicated smoke and subtle spices. As the glass warms it reveals honey and vanilla.
Flavour delicy and light, with a combination of sherry and malt. Notes of nuts, vanilla, cinnamon and cloves take the sensations a little further.
Long, soft and spicy finish, with a delicious, though delicada, smoky persistence.