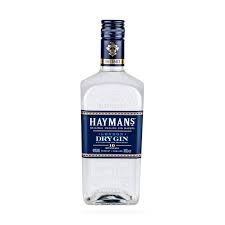 Hayman's London Dry Gin
is a classic style gin distilled from a family recipe with a blend of ten botanical ingredients.
The botanicals are allowed to infuse for a full day prior to distillation to allow the flavors to release into the alcohol. Careful and constant balance is vital del Juniper, coriander, lemon and orange peel in the creation of this traditional London Dry Gin.
This distillery located 40 miles del East London uses a traditional 450L copper alembic which was handcrafted by the German family business Carl, which has been making alembics since 1869.
His copper alembic is named "Marjorie" after Christopher's mother, the current Hayman's president, who was the granddaughter of James Burrough (the creator of Beefeater gin). She was the person who introduced Christopher to the family business and the world of gin. Marjorie died when Christopher was young, which is why Christopher chose this name in memory of his mother.