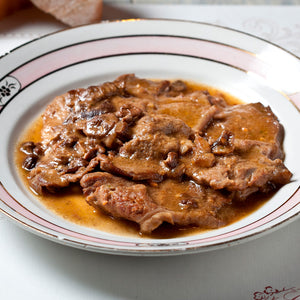 Fricandó with moixernons
Ingredients: Beef, vegetable broth (celery, carrots, onion), wine (sulphites), moixernons, powdered mushrooms, corn flour, olive oil, sunflower oil, salt and spices.
Weight: 250 grams.
Conservation: 2 months in a refrigerator between 1ºC and 5ºC
Preparation;
BANY MARIA Posing water to boil in a pot. Introduce bossa tancada approximately 8-10 minutes.
SUPPLY Pre-poach the forn at 180 ° with a fan. Posing the garnish in a safata and covering the paper de forn. Coure 30 minuts.