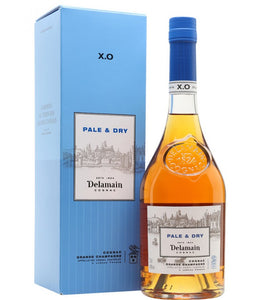 Origin; France
Delamain Pale & Dry XO is a cognac. It is a historic winery.

This cognac ages in very old oak barrels. 350-litre barrels, very used, which over time have lost the sensations of wood, giving way to new shades of lemon, orange peel, flowers,... contributing a unique personality to this cognac..

Once the aging is finished, the final blend is made by mixing cognacs of similar ages. This coupage rests for a couple of years and has just been refined. Once this time has passed, old "loose" cognacs are added in small quantities to reduce the 50º of their natural graduation to the final 40º.