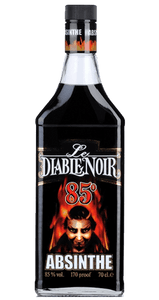 It is made from a combination of absinthe, fennel flowers and green anise, and was originally served with cold water, which is poured into a sugar cube that is placed in a perforated spoon and placed on top of the glass in which it has previously been served absinthe alone.

Today it is used for countless cocktails and mixed drinks as well as in some cooking recipes.
Black color view. On the nose notes of absinthe and green anise. Powerful on the palate, with body and notes of red fruits and liquorice.
Bottle 70 Cl. Alcoholic Grade 85º
Produced by Campeny Distilleries