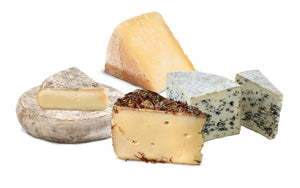 675 gr. approx.
a selection designed for THIS SUMMER:
Roncal 'Larra' PDO
Raw sheep's milk.
Pasture and transhumance sheep cheese
Area del valley del Roncal (Navarre)
Deep and intense. Perfect pairing with artichoke and piquillo peppers

LIGHT HOUSE
raw cow milk
Origin: Denmark. The aging del cheese passes in a
seafront caves del North.
cured and granulated
Notes of salt and detail of lactic coagulation

BLOSSOM
Raw cow's milk
Pasta cooked and covered with flowers and herbs
Alsace (France)
Deldelicate notes of flowers, herbs-

BLUE de guffanti
Guffanti the tuner del north of Italy
Pasteurized cow and sheep milk.
Creamy and intense. Less greasy than the blue ones.